Check out our latest edition of 'What's in Store' for Spring 2022.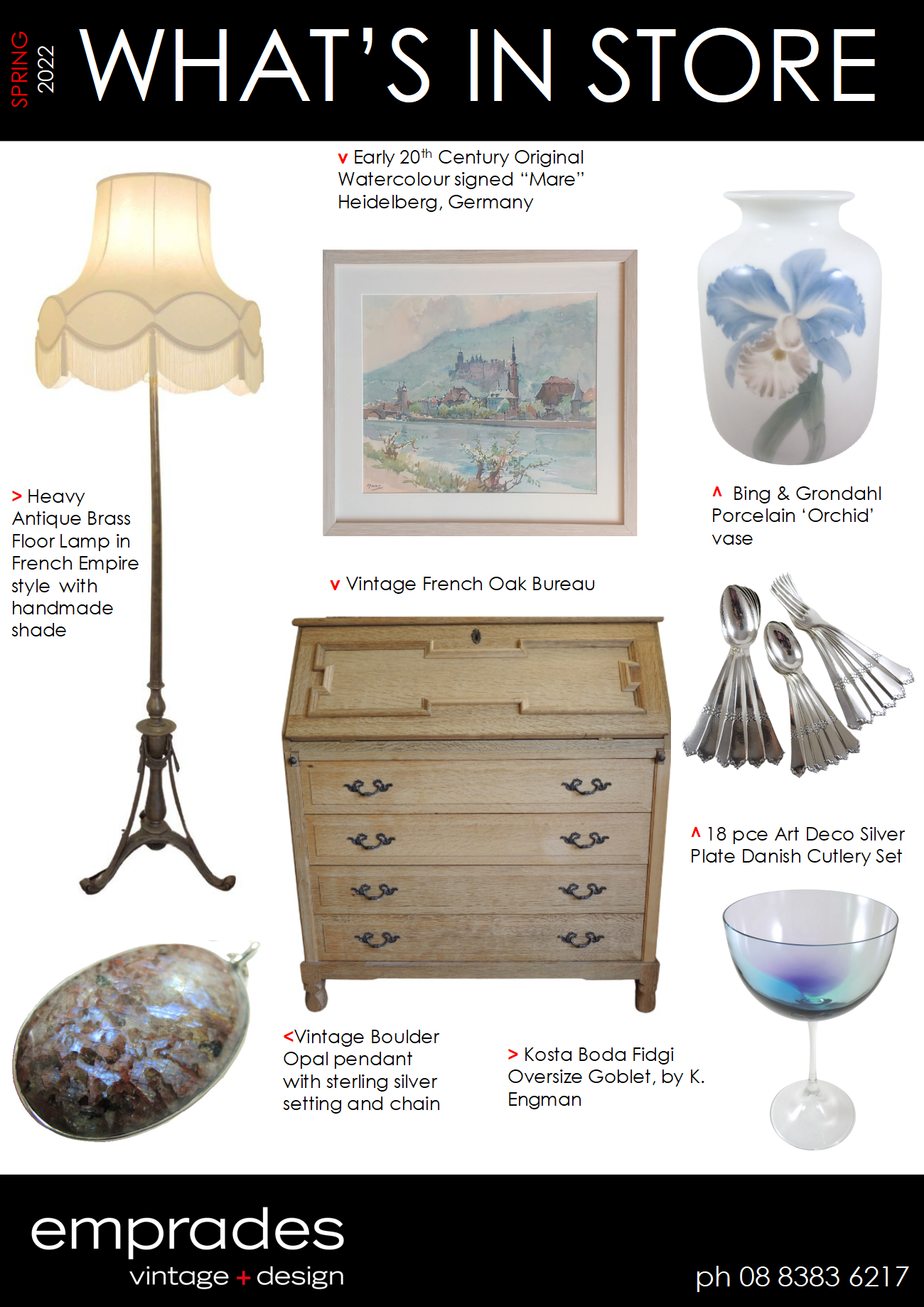 This Quarter we have focused on a calming colour palette of blues, violets and greens with some pale timber and aged brass.
The heavy antique brass lamp features elegant 'French Empire' styling (see our following blog post for a clearer explanation of the style) and a beautiful hand made shade in excellent condition. As usual, it is re-wired and safety tagged for immediate and safe use here in Australia.
The beautiful watercolour painting served as the inspiration for the colour theme of this edition. It is a dreamy, serene scene of the city of Heidelberg, Germany. This particular painting dates to c.1950 and has its original art dealer's label attached to the back of the new frame.
Picking up on the theme of Spring is the Bing & Grondahl orchid vase, with the typical muted blues and greys of the Danish Porcelain company's pieces. The hand painted flower is extremely well executed.
The French oak bureau is one of a few we currently have available, each with its own subtle differences. This one is the most compact desk we have at the moment, and we love the quality of the solid oak piece and the details in its craftsmanship.
We thought we'd feature just one of the many beautiful vintage silver plate cutlery sets we currently have available. Be sure to check out our cutlery section on the site if you are interested in purchasing a quality antique or vintage setting. We have the best range available in Australia.
We also offer a wonderful range of vintage and antique jewellery, and as you can see in the bottom left of the page we have a very pretty matrix boulder opal pendant set in silver available now.
Lastly is the rare and unusual art glass 'Fidgi' oversize goblet by Kjell Engman for Kosta Boda. The three colours merge beautifully and change when viewed through the glass.
That's the lot folks!
Don't forget... this is just a snapshot of what is available right now. We are always adding more products weekly. Be sure to follow our socials (facebook and instagram) to see what we are up to and to check out what is happening in our beautiful little town.